Customer Story - A Franchise Owner
Susie Bishop
7th June 2022
---
Here at Standout Window Cleaning we've been using Squeegee to manage our work since the app was created so we've had the unique opportunity to offer feedback and grow with the product.
As our business has expanded, the Squeegee app and team have matured to what we'd call nothing short of amazing! The software is intuitive and well built and most importantly the team listens and are always on hand to offer support along the way.
We've recently franchised our business with multiple micro-businesses working under our Standout Window Cleaning Brand. We use the Squeegee franchising feature to keep everything segregated and organized. Each micro-business has their own Squeegee instance and will only see their own work. It's very similar to adding another Squeegee user with regards to access controls and work specific views but with far greater controls to allow for better personalisation for the specific micro-business. For example, being able to use a different bank account or use a different business telephone number.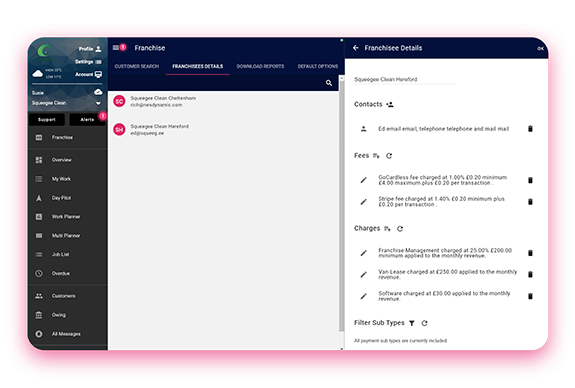 Examples of some screens on a Franchise account (from a test account - not real data)
We really enjoy using Squeegee software which allows us to onboard new franchisees quickly and efficiently. Everything is quick and easy to use which is essential when training new users.
Compared to existing software from other companies, what the Squeegee team has created here is not something to be missed!